Kings palace estate - Abeokuta
Wednesday, 19 March 2014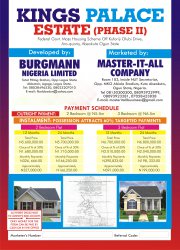 Contacts

OSOBA KEHINDE

07058423838
Item description
LETTER OF INTRODUCTION
I am writing to introduce MASTER IT ALL COMPANY who has been a leader in Supply Chain Marketing for about Three years now with outstanding business success and geometrical progression.
What distinguishes Master It All Company from all other Supply Chain Marketing Companies is the time and effort we dedicate to understanding our business with proven ability to work professionally and efficiently.
We are very interested in working with you and the members of your organization in our Real Estate Projects.
Master It All Company is an accredited Marketing Firm for the following developing Estates in Ogun State, Nigeria.
•KINGS PALACE ESTATE (PHASE I
Kings Palace Estate Phase (I) in Agbara, Ado-Odo Ota Local Government is FIVE MINUTES DRIVE TO LAGOS.
•KINGS PALACE ESTATE (PHASE II
Kings Palace Estate (Phase II) is the latest in Abeokuta and it is located on 17.045 ACRES of land situated at Kuforiji Olubi Drive, Aro-Quarry Abeokuta, Ogun State. It was awarded to BURGMANN NIGERIA LIMITED in 2009 by the Federal Government of Nigeria who authorised our company to develop the project location and market the sale of the purported housing units.
It is in lieu of this that I am writing to you, for you to be part of the on-going process as an Investor, Buyer, and or Developer.
Attached with this letter is the copy of the Certified Survey, Building Plan and Design, our Company's letter of Authorization from BURGMANN NIGERIA LIMITED, and a copy of the list of Federal Government Developers which indicate Burgmann Nigeria Limited as authentic.
•ROSE ESTATE
Rose Estate, A-40 ACRES of land situated at Ijeun Arobiologbo Village, at Laderin Neighbourhood is 5minutes drive from Kuto and 2minutes drive from Oke-Mosan Abeokuta.
•CLASSIFIED ADVERT
A)A purely Commercial/Residential environment of 72 ACRES of land situated at Mawuko, Abeokuta Ogun State for investment purposes on Real Estate as it accommodate venue to building Hostels for the Students of FEDERAL UNIVERSITY OF AGRICULTURE, with about Six Lane Express Way that leads to Sokoto Road.
B) 30 ACRES of landed property with CERTIFICATE OF OCCUPANCY AS NO.56 AT PAGE 56 IN VOLUME 567 OF LANDS REGISTRY, located at Akewe village Off Ayetoro Road Mile 2, Abeokuta Ogun State Nigeria, behind CRESCENT UNIVERSITY.
I strongly believe opportunities abound in partnering with you and the members of your organization in realising this dream and bringing comfort to our people by the courage we shall receive from you.
Please feel free to contact me 07058423838, 08095944455 on or visit our Corporate Head Office at Room 103, 1st Floor, N.U.T Secretariat Opp. M.K.O. Abiola Stadium Kuto, Abeokuta Ogun State and follow us every Thursday 6:15 – 7:00pm on Paramount F.M Abeokuta on our programme, IRORUN DE.
Please accept the best of our highest regards as we anticipate a quick response and eventual business transaction with you.
Thanks
Osoba Kehinde ACILRM.
Head of Admin/Marketing
MASTER IT ALL COMPANY.